Tropical Fruit Rum Cookies Recipe
(Makes 20-24 LARGE cookies)
3 cups mixed dried fruit*
1 cup shredded coconut
1 cup amber rum **
1/4 cup butter
1/4 cup dark brown sugar
2 eggs
Finely grated zest of 1 lemon
1 cup all-purpose flour
1/2 tsp. baking soda
1/2 lb. cashews, chopped
A day or two before baking the cookies, chop dried fruits into pieces, mix in rum, and cover.
Preheat oven to 325F. Line baking sheets with parchment paper, or coat well with baking spray. Strain dried fruit mixture, leaving it in your sieve to drain while you prepare the rest of the cookie batter.
Cream butter and sugar until light and fluffy. Add eggs and zest, continue beating until eggs are fully incorporated and mixture is once again smooth and fluffy.
In a separate bowl, combine flour and baking soda. Add to the butter & sugar mixture, beat gently until well combined. Add strained fruit and cashews to the cookie batter, mix well.
Use a tablespoon, cookie scoop, or small ice cream scoop to drop rounded spoonfuls of the batter onto prepared baking sheets. Bake for 15-20 minutes, until golden brown. Allow to cool on sheets for 5 minutes or so, before gently transferring to baking racks to finish cooling.
Once cookies are cool, keep them stored in airtight containers.
* I used a combination of dried papaya, dried pineapple, some banana chips (I'd smashed them up a bit), and golden raisins.
** I prefer amber rum for this, but it would also work really well with spiced rum or dark rum!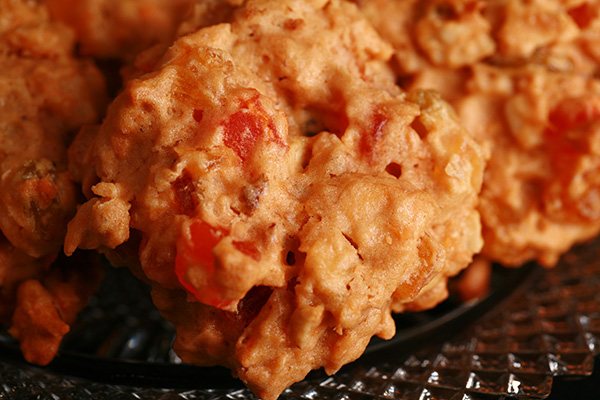 Interested in boozy culinary experiments? You'll LOVE my first cookbook, The Spirited Baker!

Combining liqueurs with more traditional baking ingredients can yield spectacular results.Try Mango Mojito Upside Down Cake, Candy Apple Flan, Jalapeno Beer Peanut Brittle, Lynchburg Lemonade Cupcakes, Pina Colada Rum Cake, Strawberry Daiquiri Chiffon Pie, and so much more.

To further add to your creative possibilities, the first chapter teaches how to infuse spirits to make both basic and cream liqueurs, as well as home made flavor extracts! This book contains over 160 easy to make recipes, with variation suggestions to help create hundreds more! Order your hard copy here, or digital edition here.